Welcome to MD Tattoo Studio


A Custom Tattoo Studio & Art Gallery in Northridge California.

Click "Artists" For Quick Links To View Our Artist Profiles And Their Tattoos!

To set up an appointment with one of our artists, feel free to call the studio at 818-700-2818, email us, or stop by to discuss your ideas.

The "Store" page includes tattoo books such as Cranial Visions, Animal Ink, Tattoo Prodigies, Tattoo Prodigies 2, The Coloring Book Projects, and much more! Also available are fine art prints and MD Tattoo gear.

Tattoo Prodigies 2

March 12, 2015

We are excited to announce the long awaited book, Tattoo Prodigies 2: A Collection of the Best Tattoos by the World's Best Tattoo Artists, is now available!
This phenomenal book has been 2 years in the making and it's finally here! We can't wait until everyone gets a look at this one! This is a high quality, hard bound coffee table book that is 10 inches wide by 13 inches tall and about 2 inches thick. This book is a monster, weighing in at 9 pounds! All 600 pages are printed in full color and include 170 hand picked tattoo artists with over 2,000 photos, 68 artist interviews and it also has a tattoo collaboration section in the back of the book! What amazes us the most besides the awesome tattoos, is all the similarities in the interviews, the work ethic and determination, the passion for the art and the respect, amongst many other things. Tattoo Prodigies 2, has double the amount of artists, with over twice as many pages than the first Prodigies, and we kept it the same price! In this day and age, talented artists abound in the tattoo world—Tattoo Prodigies 2 features the world's best tattoo artists with selected full-color galleries of impressive tattoo accomplishments. It also features inspiring stories and interviews throughout, and a lot of the interview questions are not your typical questions you would get in most interviews, you'll have to read it to find out. Not only is this book eye candy for ink collectors and artists alike, the content is sure to motivate those seeking to advance and learn. Pick up your copy today and enjoy an inspiring journey!
Published by Memento Publishing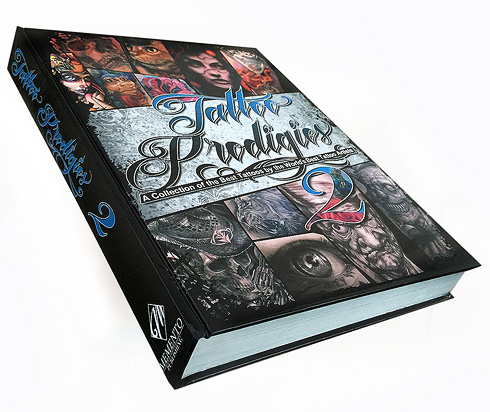 Two New Books Available Now! The Coloring Book Project, 2nd Edition and Zombie Caricatures

January 11, 2014

Memento Publishing is pleased to announce the addition of two new amazing books! "The Coloring Book Project, 2nd Edition" and "Zombie Caricatures: Exaggerations and Infections" Both books are Now Available here on www.mdtattoostudio.com, www.tattoostuff.com or www.mdtattoos.com! Also keep your eyes pealed on some of your favorite tattoo suppliers that carry books as well!
The Coloring Book Project, 2nd Edition:
The second installment of this wonderful book brings together inspiration and cleverness from an outstanding cast of 185 artists from around the world. They have contributed their own amazing drawing, giving you the freedom to bring them to life with your own artistic vision. With 400 pages of captivating designs to color and activities to execute, artists can delve into the pages full of inspiring artwork, and break away into an imaginative world. This softcover book is 400 pages and is 8.5 x 11. That's right... "400 pages!" Published by
Memento Publishing
.
Click here
to order your very own copy or visit us at the shop to pick one up!
A portion of the contributing artists are Greg "Craola" Simkins, Jeff Ensminger, Josh Duffy, Roman Abrego, Justin Hartman, Timothy Boor, Mike DeVries, Mario Rosenau, Cory Norris, Brett Herman, Mike De Masi, Durb Morrison, Don McDonald, Jason Stephan, Sung Song, Steve Morris, Katelyn Crane, London Reese, Monte Agee, Alvin Chong, Frank La Natra, Gary Dunn, Liz Cook, Nick Mitchell, Teniele Sadd, Tim Mcevoy, Nathan Ota and many more!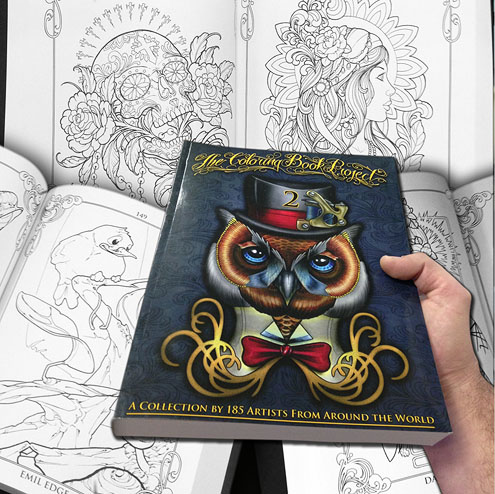 Zombie Caricatures: Exaggerations and Infections:
The content of this book showcases the work of some of the best caricature artists in the world. Sean Gardner and Nick Mitchell have managed to take something that is super difficult and make it look effortless. It takes a different type of artist to be able to pull off a great caricature. Not only do you have to capture the likeness of each victim, but you also have to figure out what it is that makes them unique and stand out in their own way. Then, you have to figure out a way to bend those unique features as far as you can without losing the essence of what makes that individual who they are.
Nick and Sean have not only managed to tweak the hell out of every person they draw and keep their likeness, but they do it while simultaneously throwing axes through their heads, lacerating their jugulars, and slinging blood all over the place. This book also includes some tutorials on how they do it! Hard Bound, 160 Full Color Pages 8.5 x 11 and published by Memento Publishing.
Click here to order your very own copy or visit us at the shop to pick one up!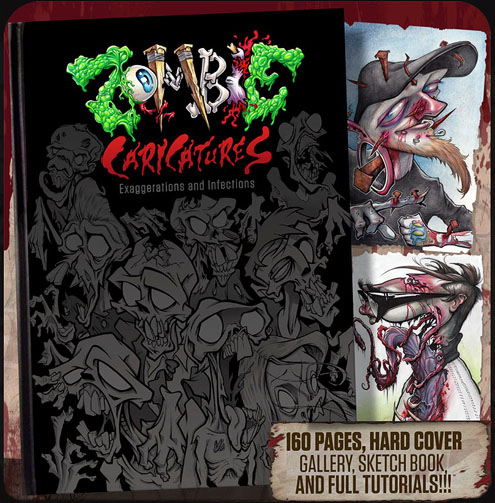 Artists Here at MD

January 22, 2013

Throughout the years we've had a few artists come and go so we'd like to introduce a couple of new artists that have joined the studio. Marc Durrant has been tattooing since 2008 and has been with us since 2011, he specializes in bright colorful tattoos and also does some amazing realism tattoos. Our newest addition to the shop is Daniel Chashoudian, he has been tattooing since 2006 and has a passion for black and grey tattoos. Katelyn Crane, Jamie Parker and Mike DeVries are still with us as well so be sure to check out all of the artist profiles at www.mdtattoostudio.com/artists or click on the artist links below. Thanks!
Animal Ink: Exploring the World's Wildlife Through Tattoo Art

January 05, 2012

Excited to announce that Animal Ink: Exploring the World's Wildlife Through Tattoo Art is now Available! This high-quality 11" x 8.5" hardcover book is brought to you by Memento Publishing and features the work of an all-star list of Tattoo Artists.
Animal Ink: Exploring the World's Wildlife Through Tattoo Art, is a feast for the eyes and is brimming with inspiration. Featuring 304 full-color pages, this artistic beauty not only contains tattoo work from 160 talented tattoo artists, but in addition, includes 62 stories about specific animal tattoos with details, meanings, and inspiration from the collectors who wear the ink and the artists who inked them.

Animal designs have appeared throughout history in all facets of the art world, so it's no surprise that utilizing animals' beauty, strength, and grace has been a large focus within the genre of tattoo art. For those seeking animal tattoos, there is an endless array of styles, creativity, and artists to choose from and Animal Ink encompasses and celebrates these many different displays within its pages by featuring over 1,500 tattoos from creatures of the wild kingdom. Click here to order your copy today!